United Education News
UTHS Class of 1954 Donates Legacy to United Education Foundation
The United Education Foundation or UEF is pleased to announce a generous donation of $700 from the United Township High School Class of 1954. The Class of 1954 decided to provide their legacy gift that will serve many students in our community.
With this donation, the UEF will be able to continue support outstanding initiatives that include:
Teacher mini-grant awards program.  This past fall, the UEF awarded a record $10,000 in teacher mini-grants.  The mini-grants are used to support teacher initiated programs that enhance their students' educational experience.
Academic Achievement Awards.    Since 2010, the UEF has provided over $60,000 in scholarships for UTHS seniors.
Eight Grade recognition program.  Recognizes annually an eight grade graduate from each partner school who has demonstrated excellence, as chosen by the school principal.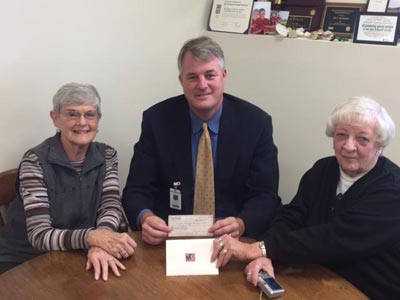 Class of 1954 member Judy Carmichael (left), UTHS Superintendent Jay Morrow (center), Jessie Boyd Class of 1954 (right).
8th Annual academic Achievement Awards on May 3, 2017
This event was a great success. See the evening's program.